Groupe Prestige,
a story of family,
mountain and sea
Our goal is to simplify your holidays, so you can enjoy it to the fullest. Prestige Gestion is a small team dedicated to offering you exceptional properities and luxury services. We put at your disposal our relationships and our best offers to make your holidays a priviledged moment.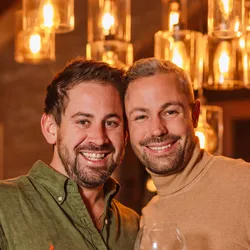 Natives of Alpe d'Huez, Thomas & Romain REVERBEL of the agency Prestige Gestion make every effort to organise a tailor-made holiday, in order for you to discover the beauty of the places of their childhood. A unique art of living that alternates between mountains and sea, allowing you to flow through the seasons…

We do not claim to be the best, but we have proof that our agency meets your requirements through our extensive experience.
We have already seduced many owners and rely on the loyalty of our customers. By trusting us, we offer you the quality you expect.
At Prestige Gestion you will find :
Whether in the mountains or by the sea, there is no need to worry about unpleasant surprises related to renting accomodation for your holidays. Our dedicated and passionate teams organize hand-sewn stays ; placed under the seal of serenity and relaxation. Thanks to Prestige Gestion, the notion of 'holiday' will finally take on its full meaning…
Find the rental of your dreams
in the Gulf of Saint Tropez